This page was last updated on February 24, 2018
You won't believe me, but I am so happy and glad to see you here!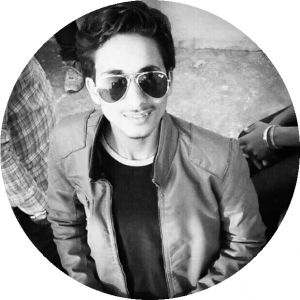 My Journey Through Life.
I was born in Ujjain, a well-known city in Madhya Pradesh on December 18, 1998. I grew up in a middle-class family. My father is an electrician, and own a electronics shop.
I began my blogging journey back in 2011, and I did not even know that what I was doing then is called blogging.
Since childhood, I loved computers because these incredible pieces of technology were taking over the world. I was extremely fascinated by seeing the progress humans made through the use of computers. And seeing my friends having a computer from very early age fascinated me most.
Talking about my fascination towards computers, when I was in 9th grade, I somehow managed to convince my 'typically-strict' mom to get me a computer. And the icing on the cake was that she even agreed to get an internet connection if I was well-mannered for a month.
After getting an internet connection, the first thing I did was that I created my first page on Facebook about hacking.
I did not have any knowledge about 'Branding' back then; thus the page ended up having an unattractive, weird and way-too-long name. Somehow, the page managed to attract thousands of liked and lot's of appreciation from its audience. I was not well-versed with hacking back then, but slowly and steadily I acquired quite some good knowledge on this topic.
And later on, I ended up creating my first blog on Blogger and named it – "The Cyber Freaks.", The URL of the blog was http://thecyberfreaks.blogspot.in I started posting content from other sources on this blog without giving credits to the original post.
I was so excited back then with my blogging journey, that I too was dreaming of making money overnight.
Later I tried to monetize that blog with various monetization methods – Applied for Infolinks; got approval and I was able to make 2$ from it after a lot of hard work. Applied for Google Adsense as I heard that it was the best monetization option out there, but I didn't get any approval – but failed terribly.
It never ended my desire to make a successful blog, never ended. I started another blog based on Hacking. No, I wasn't a Hacker or anything like that back then, and I'm not a Hacker now, but I started on Hacking niche because like all other young computer geeks the term 'Hacking' fascinated me. I don't know where and how I went wrong.
I Failed miserably! 
I was broken.
I was about to give up on my blogging journey, but there's always hope at the end of the tunnel. I somehow convinced myself to keep going on. To work harder and smarter than before.
September 24th, 2014 (The .com boom!) – Later, (fast-forwarding some failures) I started another blog on How-to and tech tutorials and named it "mytricksworld.com" I worked on it, and now I knew what mistakes I needed to avoid to make this blog successful. After many hardships, I was able to sell it for 14x Profit. After selling the blog, I bought Economic hosting from GoDaddy at 720/- for my future endeavors.
December 18th, 2014 (On my birthday, I got a big present from BigRock) – I got some free .NET Domains from BigRock flash sale and eventually Valentine's day was near, so without any hesitation, I decided to get a domain related to valentines day as I had heard a lot about Event Based Niche Blogging. The domain was "HappyValentinesDay2015Wallpaper.net".
14th Feb 2015 (Ahh! How can I forget that day?) – The day that changed everything. Not because I proposed some girl and got a 'YES' from her. It's just because I got little success on that blog i.e. got 10k pageviews on that blog and made roughly $15 from Adsense (That account was not mine) but later on, I got my Adsense account from that blog. From 18th December to 14th February 2015 I learned On-Page SEO and some link building tactics and strategies.
20th April 2015 (Last day of my 10th board examination) – My friend bought me a domain name "MyTechBuzz.org" and after launching that blog, I made my first $110 just after 2 months of its launch period through BlogMint.com. It was one of the best moments of my life.
Since then – I've created some blogs which are making me some bucks every month!
Today – Present
Today, my current blogging journey is going on pretty decently. I didn't expect to grow to such a level before, but I did due to my perseverance and thirst for success, and I expect to grow more in future like we all do. I currently have 10 blogs up and running under my domain. Out of these 10 blogs, 2-3 of them are making me some good money becoming a reliable source of income for me. I usually make a fair amount of money every month from my blogs which is helping me in my studies and to cover some of my so-called 'teenage' expenses.
I do the work I do because I love it.
I like the energy in this industry.
I like the personalities I meet in this industry – Young, Passionate and Motivated to the core.
I embrace the geeks and learn from them. I like to make the web a better place for everyone. Hopefully, someday we may cross paths in the real world, and we can help making it a better place together.
I've made a lot of good friends in Indian Blogging Community like Shaswat Shah, Jitendra Vaswani, Imran Uddin. They motivated me to blog, and still are! I keep learning new things from them every day.
I love to help people, so I keep helping as it gives me immense pleasure.
P.S. I've decided to launch my own product after my 12th!
Update: Wasn't able to launch the product but fortunately formed a small digital marketing startup i.e. hiigher, You can learn more about it by visiting the site by clicking here.
So, that's my part of the story. But now, all I want to do is just ask you a simple question.
Do you want some help?
Do you want to start your own business or endeavor, become an entrepreneur or simply generate more revenue from your current business?
If 'Yes' is the answer to any of the above questions, then that's GREAT! because I am sure I will be able to help you in all the possible ways. Feel free to check out my portfolio on my blog and let's see if we can work together.
Final Words…
Feel free to reach out with your questions and comments. I look forward to serving you! And I love meeting new people so be sure to reach out to me if you want to connect!
If you want to get in touch with me, shoot me an email at [email protected].
FREE TO CONTACT ME ON THE FOLLOWING SOCIAL NETWORKS:
If you'd like to contact me on Facebook (I add nearly everybody and will make time to talk to you), feel free by adding the ID neerajjivnani. If I'm online, I'm generally on Facebook – don't be a stranger.
You can follow me on Twitter to receive latest updates from me. My twitter handle is @neerajjivnani
So, it was nice to meet you!
With you, for you, always.,
Neeraj!